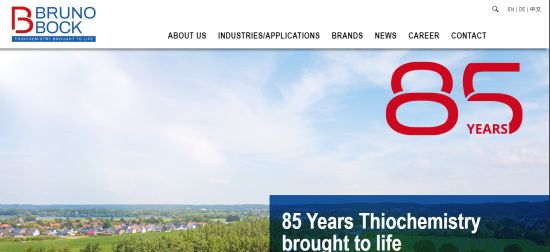 BRUNO BOCK




Country: USA

BRUNO BOCK
Glenpointe Center West - 4th Floor
500 Frank W. Burr Blvd. (mailbox # 2)
Teaneck, NJ 07666



Contact: Jelle Westra

http://www.thiochem.com/

BRUNO BOCK manufactures ORGANIC DIVALENT SULFUR CHEMICALS primarily Thioglycolic Acid, Mercaptopropionic Acid, Thiodipropionic acid, and their derivatives. BRUNO BOCK also manufactures a large number of specialty sulfur chemicals. These include Thioglycerol, Ethanolamine Sulfite, Sulfoethyl Methacrylate and others. Our products find applications in hair care, cosmetic, food packaging, food additive, pharmaceuticals, plastics, and many other uses.

We at BRUNO BOCK maintain with an innovative and highly skilled lean organization and long, steady and successful experiences in the global marketplace a commitment to our esteemed customer base.In this regard, our foremost goal is to provide unmatched quality and undivided dedication to our customers.

Our product line is flexible and reliable. Sustainability of our products drives us continuously to development of better qualities with improved processes under permanent control of our environment.
---
Product List: 35
Page: